It was back to school when Atlassian co-founder Mike Cannon-Brookes showed us how to code at the CeBIT technology fair underway in Sydney. Like the millennial kids at school today, we sit down, open our laptops, and wait with anticipation for the lesson to begin.
Cannon-Brookes starts with a homily, a reminder of research that 40pc of current jobs will be lost by 2025, that kids and adults should prepare for the new, creative jobs on the horizon, and that STEM subjects form a critical part of the skill set for this.
Four million Australian kids need to become excited about computational thinking and learning to code at some level, he says. "We don't need to make them all computer scientists, but we need them to understand the technology so they can get leverage in whatever job they go into."
He says Atlassian's Comp Sci Kids program had trained more than 3000 kids in 65 schools and is in its third year, with the training of 270 teachers. This should be done by the public education system, he laments.
Pep talk over, and it's down to business. We learn that we will undertaking the same coding exercise as 7-year-olds. It involves a visual coding teaching tool called Scratch, available for free online.
I put together blocks of code that let me use a mouse to spray paint a virtual wall, and scrawl on it with a pen — a virtual graffiti exercise.
I thought back to my own first coding encounter, in 1969, when we used bent paperclips to punch holes in pre-perforated cards. Back then, I don't remember graffiti being quite as prolific as nowadays. I remember everyday passing by "Eric Clapton is God" scrawled on a bridge in southwest Melbourne on the way to school, but not much else graffiti wise.
By today's standards, our coding exercises were boring — writing code to print a table of the squares and cubes of all numbers from 1 to 20 or to simulate tossing a coin 100 times using a computer random number generator.
Those old programs did serve the same purpose as Canon-Brooke's exercise. They taught people how to break down an action into a sequence of steps which are presented to a computer as code. Back then, we had an aid for developing the logic — plastic flowchart templates — and it was mandatory that we represented all our logic visually as a flowchart before creating a line of code.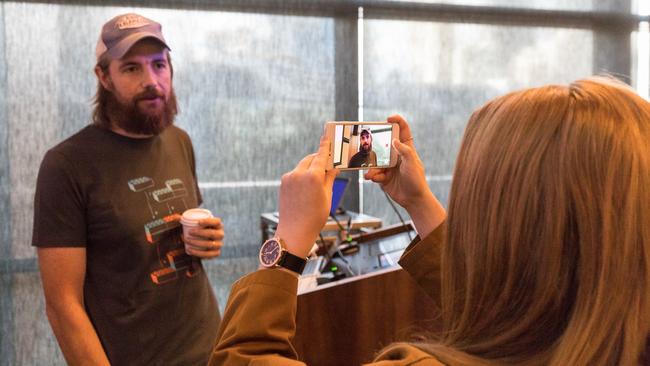 Using Scratch, I not only trace trails of graffiti, but also change the paint colour, a good hour's work for a pseudo 7-year-old with the help of Atlassian tutors. But I don't get around to scrawling "Eric Clapton is God" once more. I think how amazing that kids born as recently as 2010 are doing this.
Cannon-Brookes laments that the 2015 NSW coding curriculum is yet to roll out. He says schools have "a huge appetite" for teaching coding skills.
It's not only kids who are in focus. Several senior government figures attend the class. Afterwards, Cannon-Brookes says coding skills offer a fundamental understanding about computing that is useful for those in government and business involved in technology.
Published in The Australian newspaper.