I've been cycling the streets of New York, London, Yorkshire and Innsbruck, and along tracks in Spain, France and Holland. What's more I've managed this all from home, without breaching health directives, and without a single trip to the airport. No two week's quarantine either.
This activity is part of my nightly regime in stay-at-home mode. I have installed a bike attached to a "smart trainer" that sits in front of the TV in my living room. The smart trainer uses Bluetooth to connect to virtual cycling apps running on a phone, tablet or computer nearby. I have linked that phone or tablet to my TV so that the cycling app streets display on the big TV screen.
The result is an online computer game based around getting fit on a bike.
| | |
| --- | --- |
| | Smart cycling is a new age way of keeping fit. |
We're in lockdown at home, but you can virtually cycle the world on a bike, have fun and stay fit, as The…
At night when I perform this ritual, I turn on audio podcasts, ask Alexa or Google Home to turn off the lights and get on my bike, with the big TV screen glaring in front of me and showing the way ahead. I cycle for 30, 45 or 60 minutes, depending on my mood and vitality, and savour the scenery. It's a serene experience and a respite from the cabin fever syndrome. I've come to look forward to it.
During the past weeks I've also enjoyed exercise walks around beautiful Sydney Park in the inner west, across the road from where I live, but I've wanted to exercise indoors to reduce the frequency of trips outside.
I fear that over several weeks of living indoors, I might put on a few kilograms from a lack of exercise and the 24/7 availability of snack foods from the fridge, which is tempting to raid between writing stories.
Connecting smart trainers to bikes is nothing new, but this set-up is proving hugely popular with those exercising at home.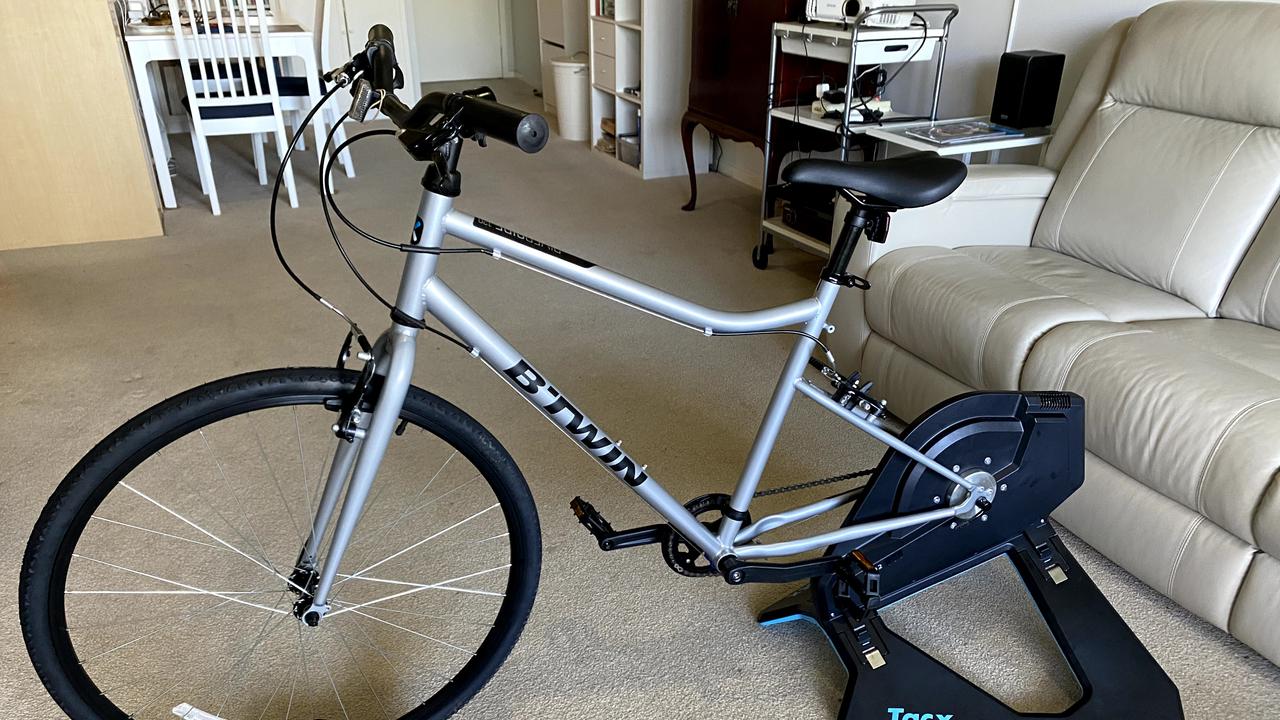 In Australia, smart trainers are about as rare as toilet paper on supermarket shelves and you mostly have to pre-order them. For this review I used a Tacx Neo smart trainer lent to me by cycling app firm Zwift, but I have since per-ordered my own, a Wahoo Kickr Core smart trainer that is costing me $1100 and is due for delivery in early May.
Stocks of some smart trainers won't be replenished in Australia until mid year, such is the demand with people staying at home.
I began this project by buying a relatively cheap $200 hybrid bike as I didn't want to dissemble my main bike for this.
The next step involved attaching the smart trainer. There are basically two types – wheel-on and direct drive – and they attach to the back of the bike. With wheel-on trainers, you leave the back wheel on and insert the tyre onto a roller that rotates as you pedal. The bike is kept stable by attachments on each side of the wheel hub. On some setups, you'll need to insert a special skewer through the hub as part of this assembly.
Direct drive trainers are usually more expensive and work differently. You remove the back wheel altogether and attach the rear fork to the trainer. You attach the chain from the pedals to a gear cassette installed on the trainer.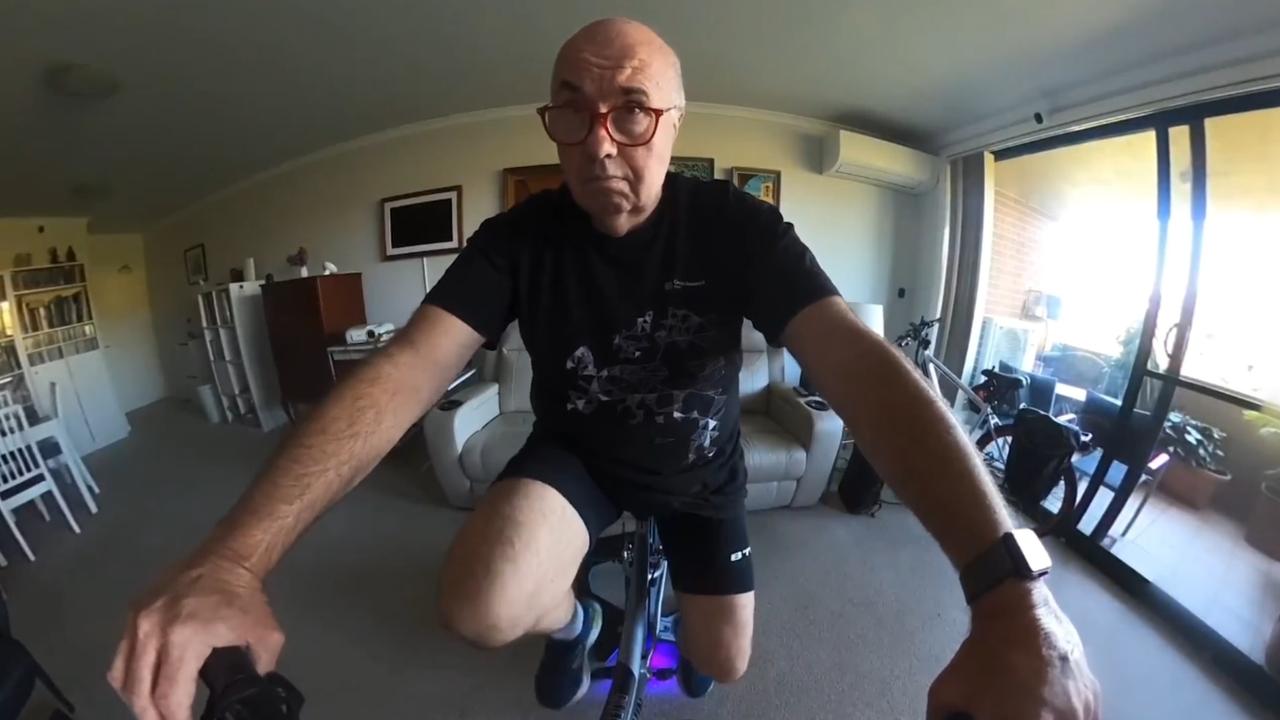 Some trainers have their own gear cassette. If not, you can buy one that matches the gear cassette on the back wheel from a bike store.
This set-up lets you virtually ride roads displayed on the TV. You can use gears as in real life riding.
Tacx, CycleOps, Wahoo and Elite are among the brands of smart trainers. When you shop around, you should consider cost, trainer noise (which varies markedly), app compatibility, power output and connectedness.
If you want to use the cycling apps Zwift and Kinomap as I did, make sure your smart trainer works with them before you buy it. Some trainers offer both Bluetooth and ANT+ connectivity so you can link in health monitoring devices such as heart rate monitors.
My smart trainer emulated both travelling up and down hills: pedalling was harder on ascents and easier on descents. The Tacx Neo also simulated the bumps in Zwift when riding over cobblestones and bridges with wooden planks. It was bumpy. The simulation is sophisticated.
Zwift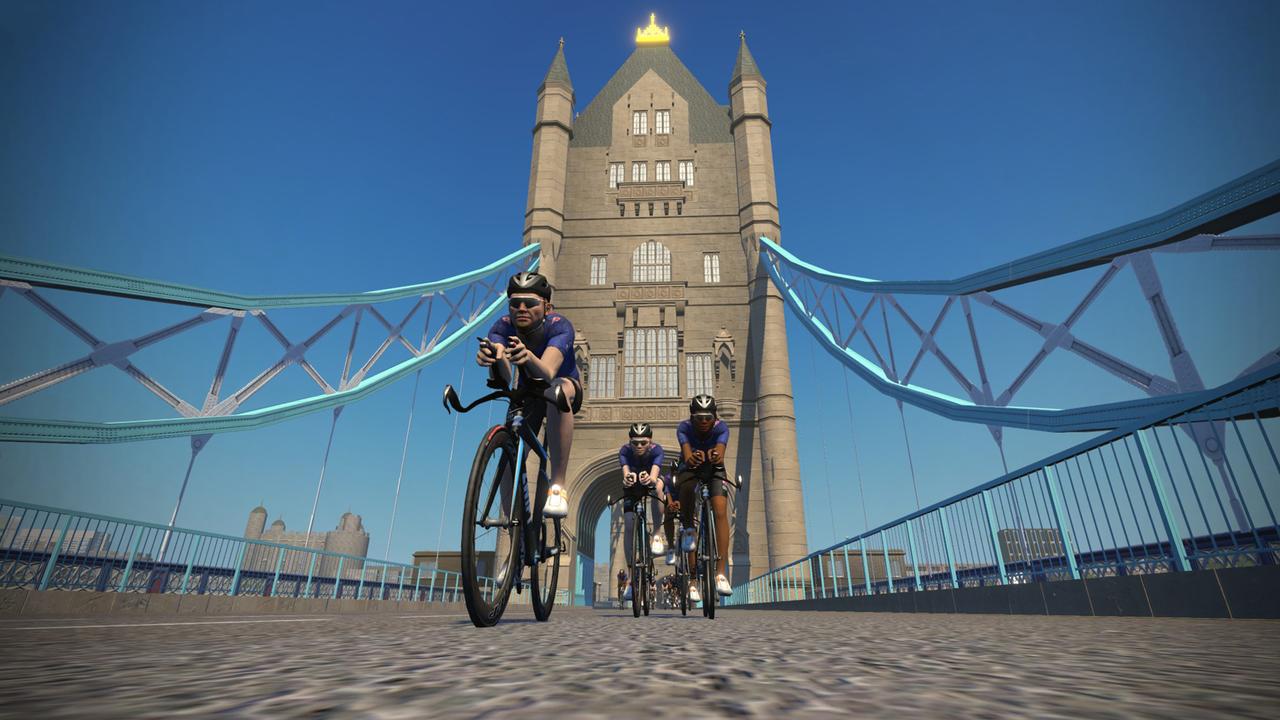 The next step is to download the cycling apps. Zwift is available for Mac, PC, iPad, iPhone, Apple TV, and Android devices and is a subscription app, costing $21.99 per month. So train regularly to get your money's worth. TrainerRoad and Sufferfest are rivals if you want to look at other options.
You sign up for a subscription, install the app, and then pair it with your trainer. I needed to pedal the Tacx Neo a few times for pairing work as the Flux is powered by your pedalling, not through a power point.
The last step is to display the app on a TV. You can either connect your phone, tablet or computer to your TV with an HDMI cable, use a smart TVs mirroring function, a Google Chromecast or Apple TV.
You can Airplay from an Apple Device to an Apple TV which then displays its content on your TV or more simply use the Zwift app on Apple TV.
Zwift is a social experience, a second life version of a cycling world. Its use has swelled in the pandemic from 16,000 concurrent riders a few weeks ago to up to 35,000 riders. Last year riders were logging one million miles (1.609m km) per day. It was 3.4 million miles per day in March.
The other cyclists you encounter on the road are other Zwifters beavering away on their bikes in faraway lounge rooms across the world.
Distance doesn't stop you virtually meeting up with friends and cycling with them. You can text each other as you go or can connect to them using WhatsApps, FaceTime or Skype and chat as you go.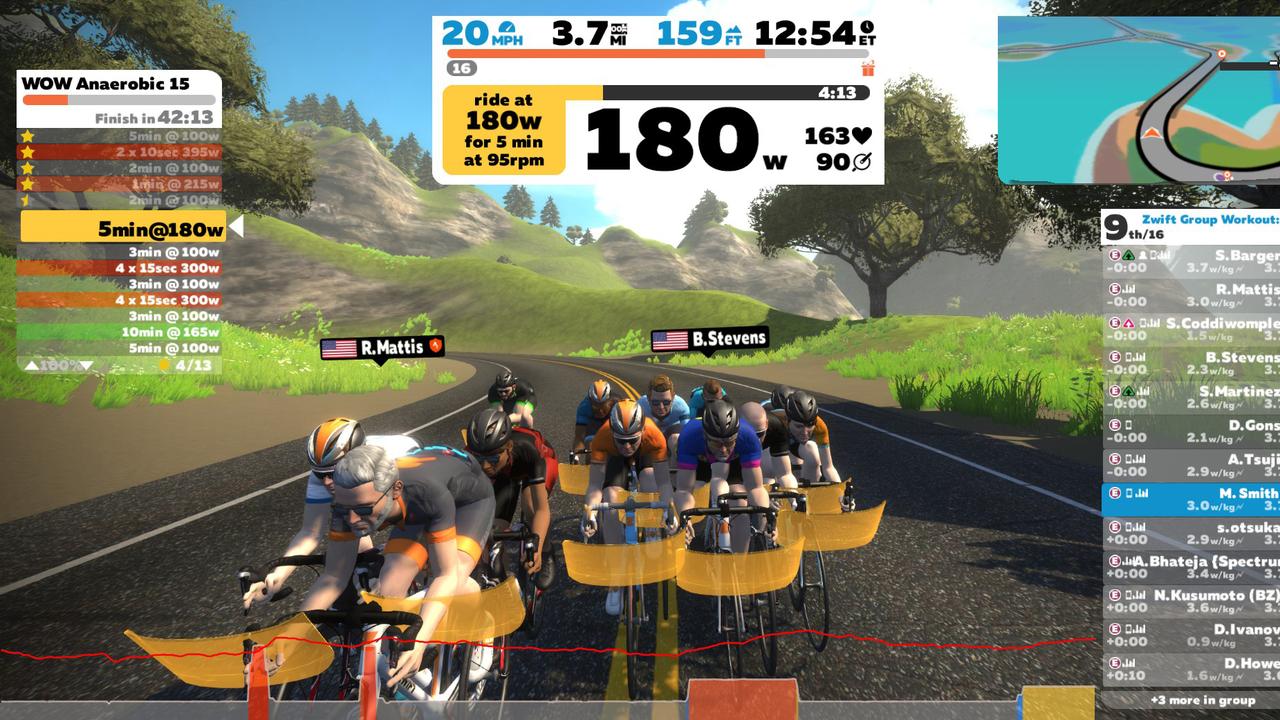 Zwift offers six cycling worlds with three available at a time. Zwift publishes a calendar of when worlds are online. They are London, Yorkshire, Innsbruck, New York, Richmond (Virginia) and Zwift's make believe world Watopia. Each world offers a variety of cycling routes of different lengths and difficulty.
Choose routes carefully, or you might find yourself heading for some insurmountable hills.
You can add a workout mode of interval sprints with alternating faster and slower periods to add extra spice, but you don't have to.
Don't be despondent if other cyclists fly past you at enormous speed, as many do. Some are incredibly fit and have used Zwift for years. Some are professionals. Some cheat by registering a lighter weight with the app, which lets them travel faster. I found my own level: I was slower than many, but faster than some, and was happy.
Zwift offers training sessions and scheduled road races if you want to train with others. You can create cycling meetups and invite users to them. Meetings are proving popular during the pandemic and Zwift can organise them so that the group stays together.
Zwift has advertised virtual meetups for triathlon team and children's sporting competitions that can replace outdoor activities cancelled due to the virus.
During my trial, Zwift operated smoothly, thanks partly to my fast internet connection. The virtual houses and landscape that surrounds routes display in painstaking detail and the experience is addictive.
Sometimes spacings between cyclists don't work out. I've had cyclists pass through me rather than around me but it doesn't hurt. I'm on the way to becoming a regular Zwifter, at least while we mainly stay indoors.
Kinomap
Kinomap is a different style of application. It says it offers 215,744km of courses for cycling, running and rowing. I of course used it for cycling.
My main interest in Kinomap is the hundreds of videos it has of cycling routes, filmed and uploaded by other cyclists. You get on your bike, pedal, and proceed down roads and tracks they filmed. It's as if you were there. On the app, I counted 480 rides of various lengths shot across the globe of various distances and climbs. They are rated with a degree of difficulty and with average speeds. It's great to experience spectacular journeys through towns in France with the backdrop of the French Alps, or dirt road trips through Catalonia, Spain, as I did.
Alternatively I travelled along ordinary suburban roads, experiencing daily rides through the burbs filmed by other users. On Sunday, I did a 10km ride through the streets of Rotterdam, The Netherlands, and felt like I was a tourist on a site seeing venture.
You don't see other users on the route in Kinomap, but you can see the position and metrics of other cyclists in a table and on a map.
Kinomap also offers coaching and training videos
Overall I enjoyed cycling along roads that I will probably never cycle in real life.
I experienced two issues. Many routes were originally shot in lower resolution. They look okay on a tablet or computer screen, but a little blurry on a big TV screen. I'd also get occasional network dropouts where the video would freeze and a few moments later catch up to where it is supposed to be. It reminded me that I was just watching a video.
Nevertheless, Kinomap offers a worthy experience with real video trips that you can follow.
Both of these apps will keep me busy for weeks during this stay-at-home phase.
Published in The Australian newspaper