Drone hobbyists have been experiencing frustration. A reduction of places to fly in Australian urban areas is making it harder to enjoy piloting, yet the quality and capability of consumer drones continues to improve, which makes them extremely tempting.
Higher resolution 4K cameras snap great photos and video, and the vast amount of automation lets them record video while performing complex manoeuvres in the sky.
If you find a suitable and lawful place to fly, you're in for a treat. You can create sequences where your drone will fly automatically between waypoints, taking beautiful vision en route. It can video you below as it thrusts upwards and away from you, like a rocket looking downwards.
In recent years China's DJI has jumped ahead of the pack with drones that offer sophisticated functionality. The company makes consumer
drones for all needs and hip pockets and is estimated to hold about 70 per cent market share.
DJI originally made rigid arm drones but in recent times its foldable drone range "Mavic" has taken off. A Mavic folds into a tiny ball you can fit in a backpack or the car glove box.
In 2016 it released the Mavic Pro and in 2018 a slightly smaller and cheaper version called Mavic Air.
It's now released a successor to this in Australia, Mavic Air 2.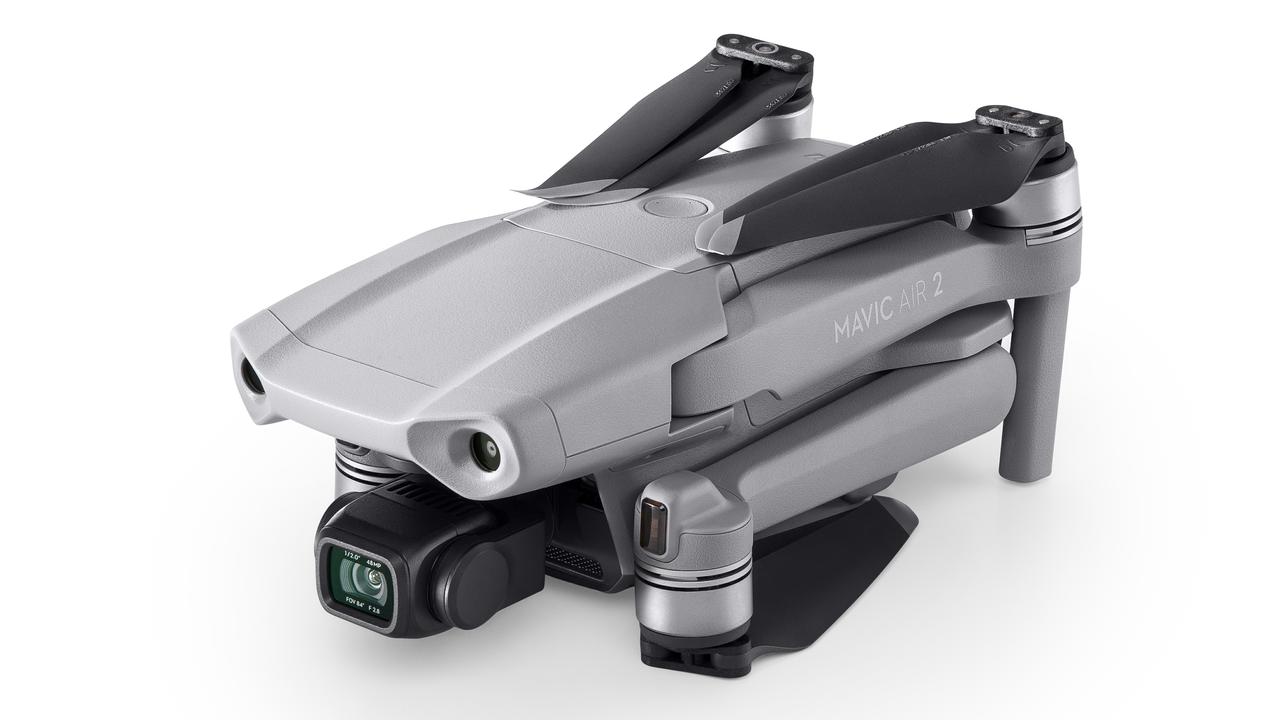 With our dollar flagging, Mavic Air 2 will still cost you from $1499, but it has some of the best features you get on a consumer drone.
Mavic Air 2 has front, rear and bottom sensors for object detection. It delivers longer battery life than Mavic Air mark one, and has a longer video streaming range from the drone to controller. The camera is more capable with a larger ½-inch sensor, snaps more detail and delivers better image quality in lower light.
The ½-inch sensor is bigger than the Mavic Air's 1/ 2.3-inch sensor, shoots 4K video at 60 and 120 frames per second, and snaps 12MP and 48MP stills. The larger resolution stills gives you the option of printing large images.
It offers 4X slow motion in 1080p at 120 fps, and 8X in 1080p at 240 fps. The camera is supported by a mechanical 3-axis gimbal.
You can also shoot hyperlapse in 1080p and 8K. Here the Air 2 shoots a series of stills rather than video. You select the time interval between these images with the minimum being six seconds. The sped-up vision makes it seem like the drone is catapulting through the air.
Lots of people have tried this, and while 1080p hyperlapse appears to work well, the resulting 8K video appears shaky and a tad dark, and post processing of 8K hyperlapse doesn't work as well as it should.
You need to download these 8K images to your computer directly; the drone won't send them via your phone as it would other media. DJI says the hyperlapse mode will be updated, so for now 8K hyperlapse is more a Beta feature.
You can tweak ISO, exposure and other camera settings, shoot HDR photos or rely on DJI's new SmartPhoto feature which uses HDR and scene recognition to combine multiple shots at various exposures.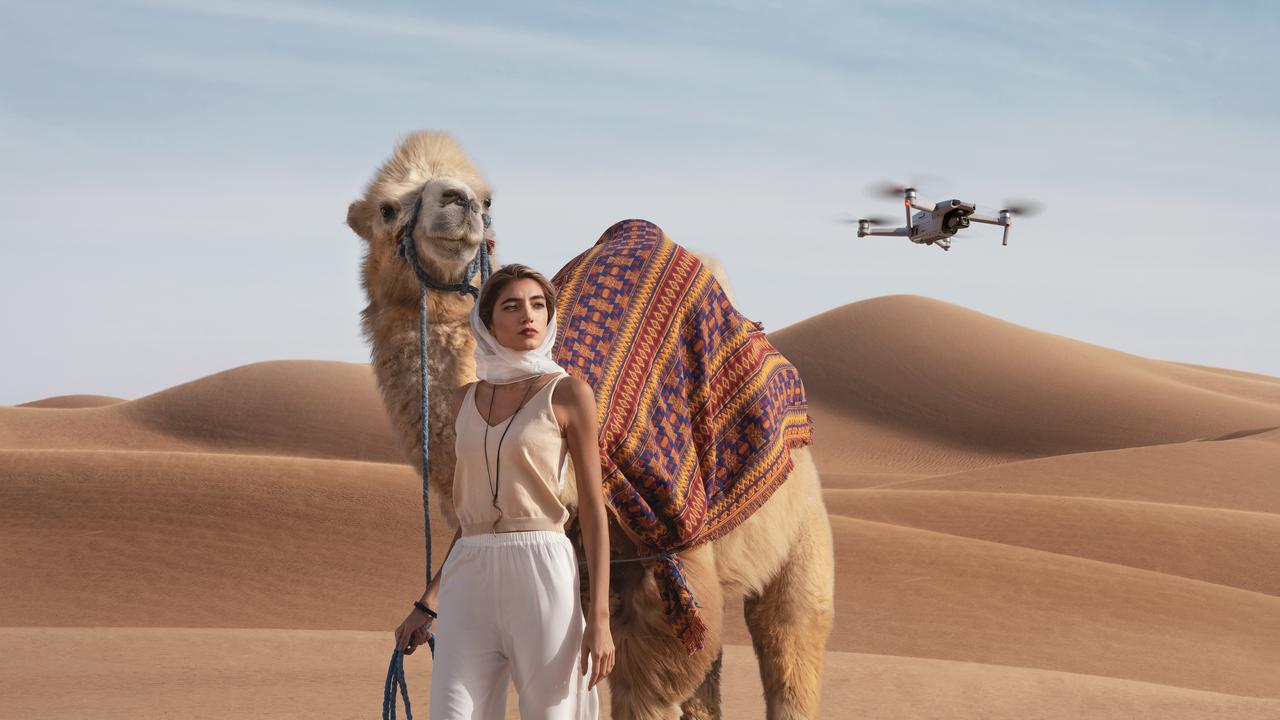 DJI has updated the photo and image communication system from standard Wi-Fi to its own proprietary variation called "OcuSync". OcuSync 2.0 is already installed on some other DJI drones but wasn't on Mavic Air 1. You can control the drone with multiple controllers. One person can flying it while another takes photos and video. Some DJI drones will let you connect DJI Goggles where you view the world as if you were seated inside the drone, however Mavic Air 2 doesn't support the goggles.
The other big improvement with OcuSync is the real time transmission of vision taken by the drone to the pilot on the ground. The drone can send 720p and 1080p video at 30 frames per second to the controller from up to 8km away and can switch between the 2.4GHz and 5.8GHz wireless bands to optimise speed and reduce interference.
That 8km distance is more than enough because under Australian law you have to see your drone to fly legally. Unless you have Superman's vision, you won't see any of these consumer drones at an 8km distance.
Coronavirus may have delayed one of the Mavic Air 2's stellar features found already on some other models: DJI AirSense. The company's drones already boast several helpful navigation features: geofencing, automatic height limits near airports, automatic return to home and obstacle avoidance.
DJI Sense adds the ability of the drone to pick up the ADS-B signal transmitted by planes and helicopters. With CASA (Civil Aviation Safety Authority) limits, you shouldn't be flying anywhere near airports or helipads, but in case you do, the pilot will get some warning that you're in the area so he or she can take action if necessary.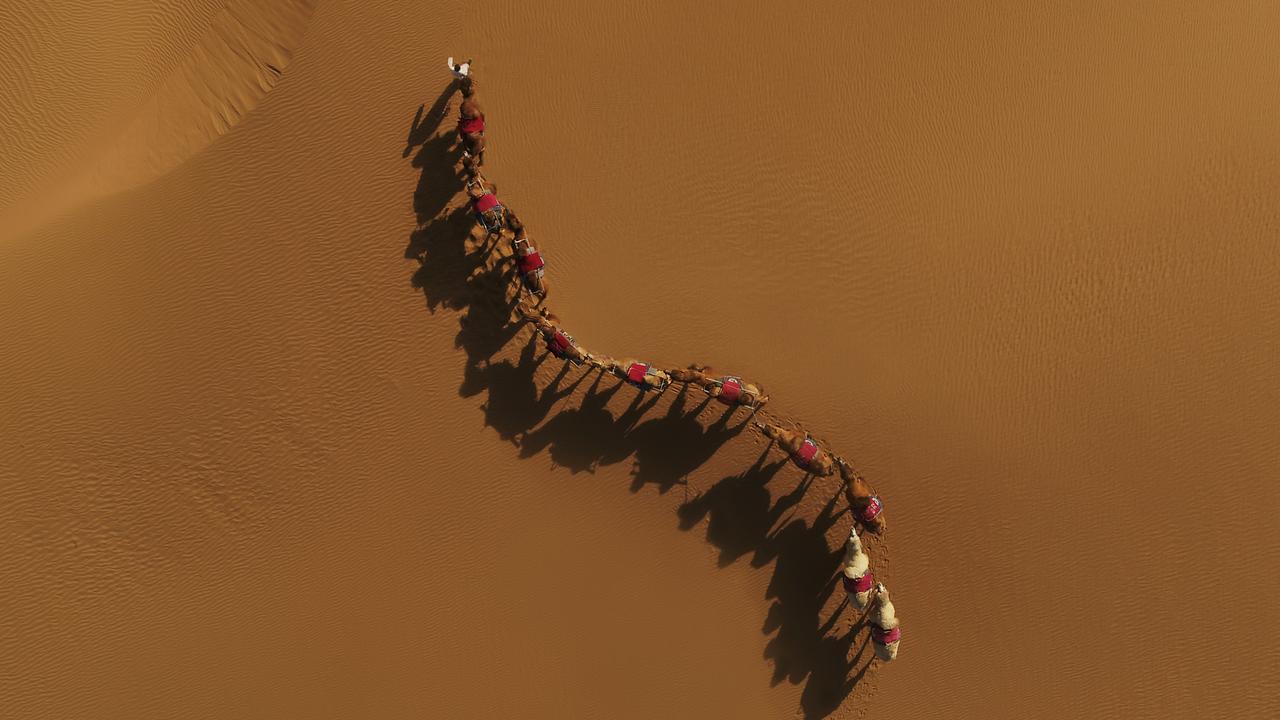 Currently DJI Sense is only available on DJI Mavic Air 2 units in the US, and not on Australian drones, but the company says that will eventually change.
The control console for Air 2 is a little bigger than Mavic Air 1. You mount a phone onto the console, as there's no built-in display. Instead of wrapping the phone between two side arms, there is a pull out spring-loaded tray for your handset. It feels more stable and is comfortable to hold.
The battery is rated to last 34 minutes but expect several minutes less as invariably these drones want to return to base and land before the battery expires.
The drone offers four flight modes: free movement, circle, course lock and way points, and pre-programmed flight manoeuvres which the drone executes automatically – rocket, circle, dronie, helix, boomerang and asteroid.
You use an updated version of the DJI Fly app for the Mavic Air 2.
Hopefully, you can find somewhere to fly it. CASA, which licenses drone pilots and drones, has an app that shows you where you can't fly due to air space restrictions. It's important you also check with your local authority or park management authority if you want to fly there.
In future, you'll need to register drones weighing more than 250 grams and the Mavic Air 2 weighs 570 grams. However, CASA's website says the drone registration system hasn't been introduced yet.
We need drone parks in Australia – places where people can travel to and fly their drones in peace without issues. If you live in a rural area on a large property away from other people, you're in luck.
There are two purchasing options. For $1499 you get the drone, one battery, a remote controller and wires and cables. For $1899 you also get a charging hub, two extra batteries, ND filter sets, propeller guards, a protective case, tablet holder for the controller and monitor hood. DJI supplies you with a swish looking shoulder bag for storing it all.
The DJI Mavic Air 2 offers everyday consumers and prosumers sophisticated functionality in a lightweight, small drone that folds up, is easy to carry around, and offers value for money.
Published in The Australian newspaper.