A $239 outlay can turn your smartphone camera into a cinematic power house. That's my thoughts after trialling the Osmo OM4, the fourth generation of drone maker DJI's handheld mobile stabiliser.
What started as a selfie stick with built-in stabilisation now includes a host of shooting modes for capturing activities out and about, and social times with families and friends. Lots of creativity options are at your disposal.
DJI is well known as the world's biggest consumer drone manufacturer. DJI drones come with gimbal systems and cameras that take great footage in the sky. Along the way the company made this technology available on the ground in a powered handheld device.
The OM4 has three-axis stabilisation that supports your phone. You hold the Osmo by its handle and control movements and take photos and video using buttons on the stem.
The system is very effective in removing shake as you walk along. You can move the phone left and right, and up and down by operating a joystick. You can add smooth looking pans to clips to provide a professional touch.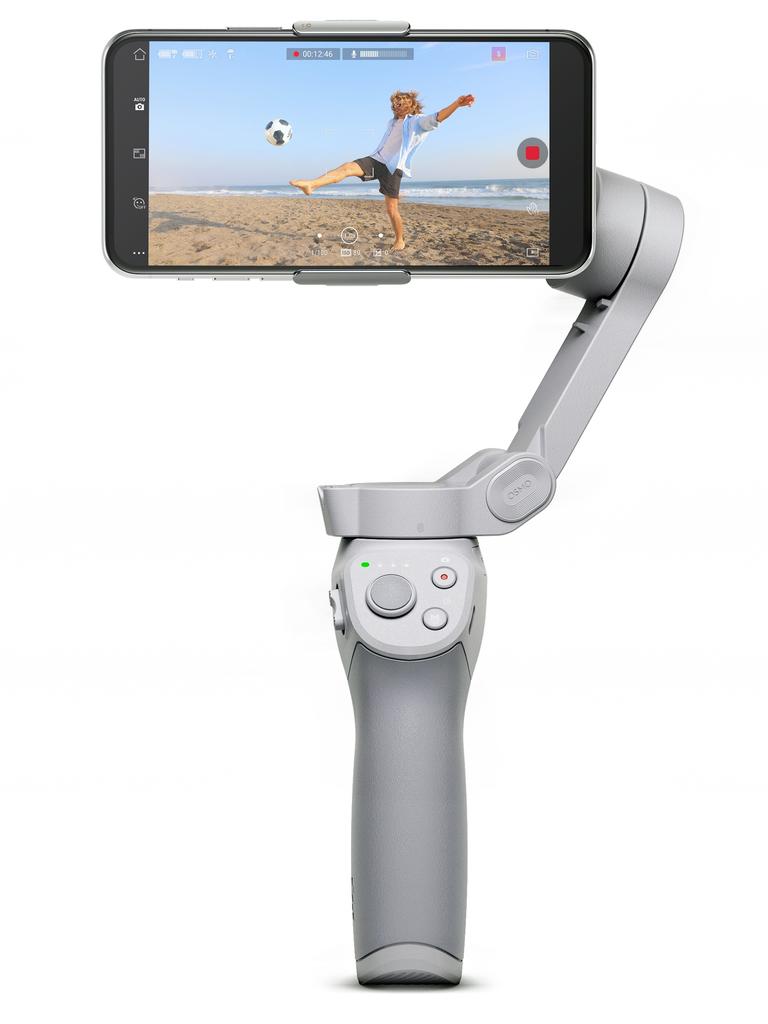 The co-ordination between the gimbal and phone position is maintained through the DJI Mimo app that you open when the phone is loaded. The app prompts you to link the Osmo by Bluetooth and offers an alternative to your phone's in-built camera system. The Osmo basically takes over your phone's photography.
You can walk along a path, or pan across a scenic plain and get superbly smooth vision even as you shuffle side-to-side when moving.
This fourth generation Osmo folds up for easy storage and when carrying it around. Previous versions had a jaws-style clamping mechanism for securing the phone to the gimbal.
This year DJI is offering a much faster magnetic attachment. You place a small magnetic clamp around your phone or stick it on and leave it there. It's then a matter of lining up the magnets and touching the phone and gimbal to lock it in. The demonstration videos show people achieving this in a flash. In reality, it took me a few seconds, but you quickly have the phone connected and be ready for action.
You don't have to hold the gimbal. There's a screw-in stand if you want to take time lapse video, for example the night sky.
The OM4 would be useful just for this. The myriad of intelligent shooting modes takes its capability further.
There are three forms of timelapse video where time is speeded up. Standard timelapse involves the camera being stationary as it videos a sunset; motionlapse adds movement such as a pan to the timelapse, while you are taking vision as you move in hyperlapse. Smoothing is achieved using Osmo's own stabilisation and electronic image stabilisation.
There's slow motion and subject tracking, where the gimbal automatically follows an object in the frame. It could be your child playing football, an adult or a dog. DJI says it has worked on improving the gimbal's object recognition. The sport mode speeds up this tracking capability.
You can start and stop taking video or snap photos with gesture control,
There are three panorama effects including a "clone me" mode where you can add multiple instances of a person in one shot. Letting the gimbal take multiple shots as it moves smoothly offers better panoramas than ones you manually create moving your phone.
There's special effects such as the spin shot gimbal movement where the gimbal rotates the phone. You feel you are in a rolling aircraft. All these modes are accessed using the MIMO app's camera screen.
The trick is to remember all of these great features in the field.
There's a series of story mode templates for cobbling together your clips into a movie for posting. More details are here.
Are there downsides to the OM4? It is a bit heavy to hold for long periods, and you may not want the magnetic connector attached to your phone when not using the gimbal.
Also, the OM4 isn't a GoPro. It isn't a self-contained camera, it uses your phone camera. It doesn't come with a large number of attachments for filming when you are cycling, surfing and running as a GoPro does. And it's not really about action sports. But it does massively increase the types of shots you take with an ordinary smartphone camera, and optical stabilisation is key to its capability.
There's lots to enjoy for $239.
Published in The Australian newspaper.