Mounting a floating e-bike in thigh-high water isn't a picnic. As my patient instructor Stacey Kitchen explains, I have to raise my non-dominant (left) foot skyward onto the pedal, push really hard upward to raise myself, flip my other leg over the saddle and pull backwards to shift my weight to the rear. It sounds like I'm mounting a wild horse.
Then I must shift my weight from backward to forward, stand up and pedal furiously to take off and have the electric motor kick in. Such are the early manoeuvres I had to master to ride the Hydrofoiler XE-1, an electric bike that planes across water and an amazingly innovative piece of kit developed by Kiwi start-up Manta5.
I tried the Hydrofoiler at ­Devonport, across Waitemata Harbour from Auckland city on the weekend. The day wasn't ideal. The water was a tad choppy, the beach a bit rocky, but it was an epic adventure.
It took me four goes to succeed with this manoeuvre without spectacularly falling off sideways, or sinking fatalistically with the front section disappearing into the drink because I didn't pedal fast enough. Tut. Tut.
MORE FROM CHRIS GRIFFITH: Facebook takes a swipe at dating | Is Apple poised to gamble on iPhone 12 and iPhone 9? | A new angle on streaming | How did this house survive an inferno?
But as in all areas of life, persistence pays. I eventually got going, and it was bliss. You sit back, and pedal leisurely around the lake, bay, harbour — your waterway of choice. You are repaid in spades for that steep learning curve and the false starts.
It is an exhilarating experience of biblical proportions. I mightn't have walked on water, but I think e-biking on water is the next best thing for a mortal.
The Hydrofoiler XE-1 l is no ­ordinary electric pushbike, although it has a seat, handlebars and pedals. Manta5 says the Hydrofoiler is the brainchild of New Zealand entrepreneur Guy Howard-Willis, and the team has been working on it for eight years.
| | |
| --- | --- |
| | An electric bike for water |
The Australian's Chris Griffith jets to New Zealand to test the Hydrofoiler XE-1 by Manta5.
The hydrofoils are carbon and the frame is aluminium. It has a mid-drive electric motor similar to a land e-bike. The motor turns a propeller beneath the surface. Manta5 says the propeller is well below the pedals, and stops immediately when you cease pedalling. So it will stop spinning if you fall off, which I did several times.
The bike floats because of the large midsection, which also houses the battery. It is sturdy enough to withstand my body weight pressing down on it, getting on and off. The battery lasts one hour on maximum assist.
The two foils and the front tiller are the secret sauce that stabilise the bike. The wide rear foil not only stabilises the bike from swinging left and right, it keeps the bike at the right pitch, the lift at the correct angle to the water. The front foil also helps lift the bike.
The tiller at the front performs several functions. It is like a rudder and steers the bike in line with your handlebar movements.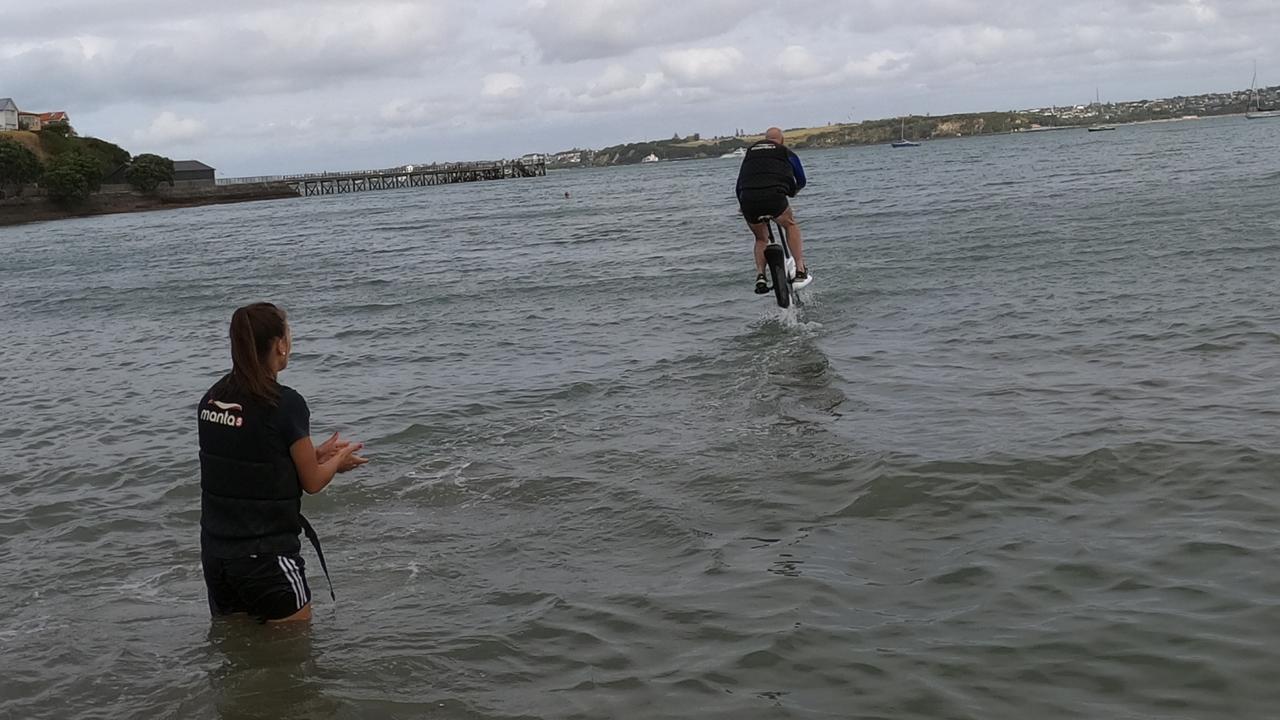 All this gear is underwater, except for the skid pad on a mini tiller that sits on the water surface. The bike uses the skid pad's orientation to set the correct height above water without any rider input. That's clever.
The bike isn't really designed for choppy conditions. However, Manta5 R&D manager Conan Magill says the irregular frequency of the water surface rather than the size of waves becomes the problem.
I enjoyed my time with the ­Hydrofoiler XE-1. Any early ­trepidation was more than cancelled out by the sheer joy and adrenaline rush of being on it.
I was fine cycling in a straight line, but I came a cropper when I eventually tried to turn, to avoid ending up in the middle of the harbour.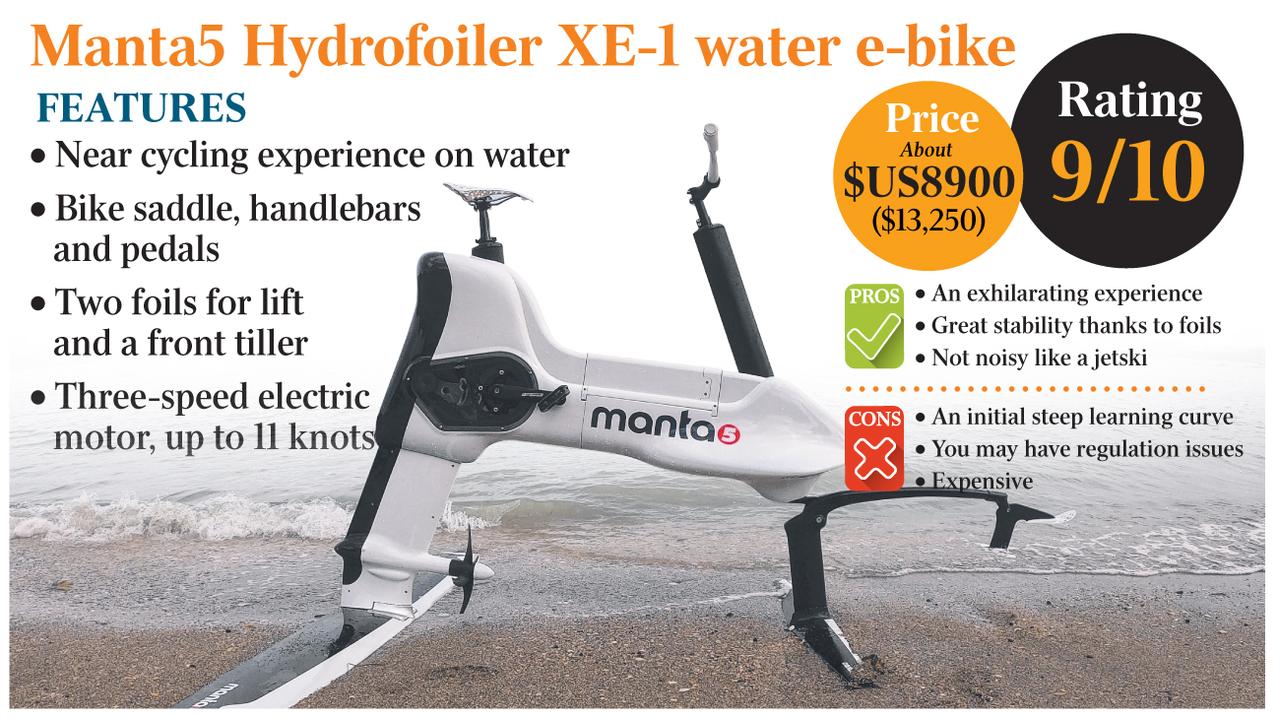 On a normal e-bike you lean to the side and stop pedalling when cornering. On this bike you pedal at the same rate when turning. I didn't, so the bike started to sink and threw me off in spectacular fashion.
Manta5 has a series of useful YouTube videos to help you get going. The videos show you how to take off from a beach, from the edge of a pier, from a boat and even from a bike that's on its side and partly submerged in the water.
The Hydrofoiler XE-1 is Manta5's first commercial product. Marketing manager Louis Wilks says the company really got going in 2017 after an early video achieved 350 million views. Manta5 now has 35 full-time staff, has sold 30 Hydrofoilers in New Zealand as a pilot, and says it has pre orders for hundreds of bikes in Europe and the US ahead of the northern hemisphere summer. This has seen production move from New Zealand to Taiwan.
The company hopes to market the Hydrofoiler in Australia, United Arab Emirates and other countries ahead of our next summer for about $US8900 ($13,250). This is a lot, but plenty of highend push bikes sell for more.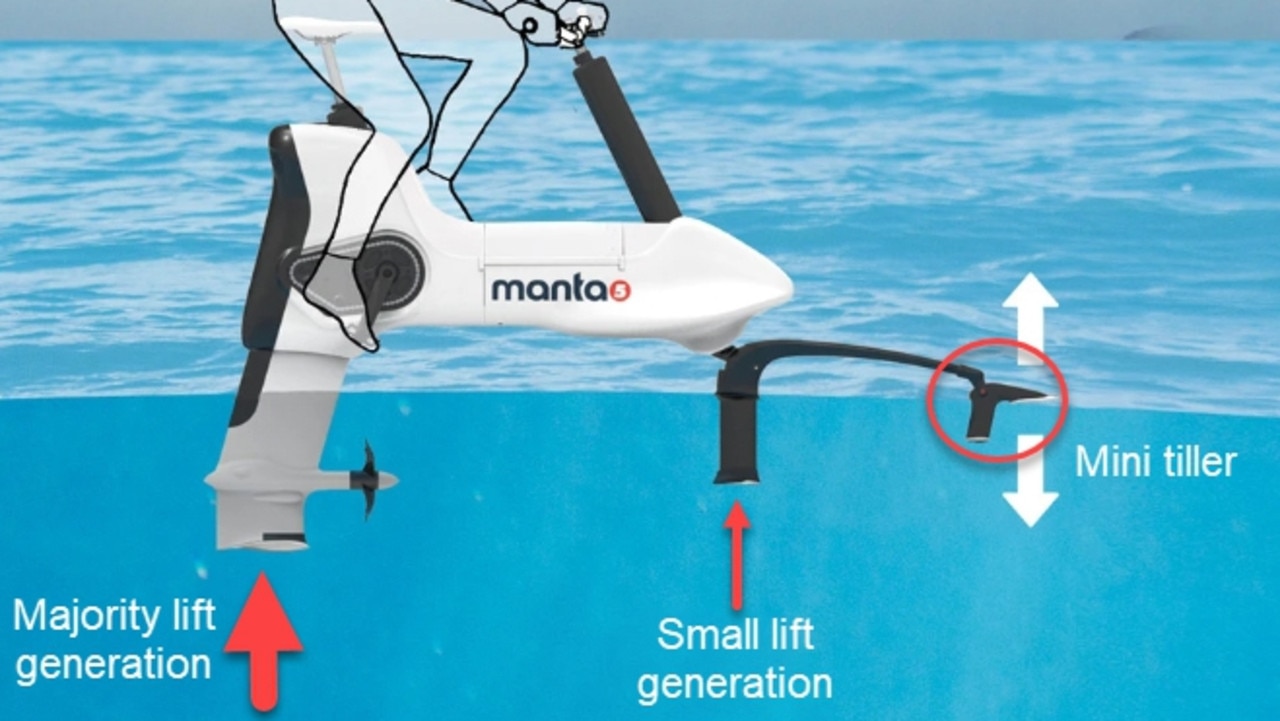 He says the company has plans for add-on and mods that can be retrofitted to existing bikes. Bikes could be made to go faster, or to be extra stable. Racing models and bikes for the ocean swell are under consideration. Hydrofoiler in its present state suits people with an interest in fitness in the water, cycling and who love outdoor activities. This bike does about 11 knots.
I suggested adding a quick start throttle like ones you see on e-bikes purely for when they take off (not a regular throttle, which is a no-no). Taking off would be ­simpler.
Wilks says users have recorded their journeys on cycling app Strava. He says the app doesn't have a special category for Hydrofoilers at this stage.
Finally, there is the issue of regulation. In New Zealand, there apparently are no rules governing where you can or can't use a ­Hydrofoiler. People use their common sense.
In Australia, states set the rules for personal water crafts (PWC) and licences can be expensive. In NSW, it costs $190 for a year, $415 for three years and $941 for 10 years.
Transport for NSW says the Hydrofoiler "will be reviewed to determine whether it is safe for use on NSW waterways and whether it falls under the category of a PWC". We'll have to see.
Queensland says the bike won't need licensing there. "Maritime Safety Queensland considers existing national legislation would not define the craft as vessels even for hire or commercial use," says Maritime Safety Queensland general manager Angus Mitchell.
"This does not mean there would be no controls over their use, particularly on the Gold and Sunshine Coasts, where local government conditions for use of aquatic craft, particularly in public swimming areas would apply."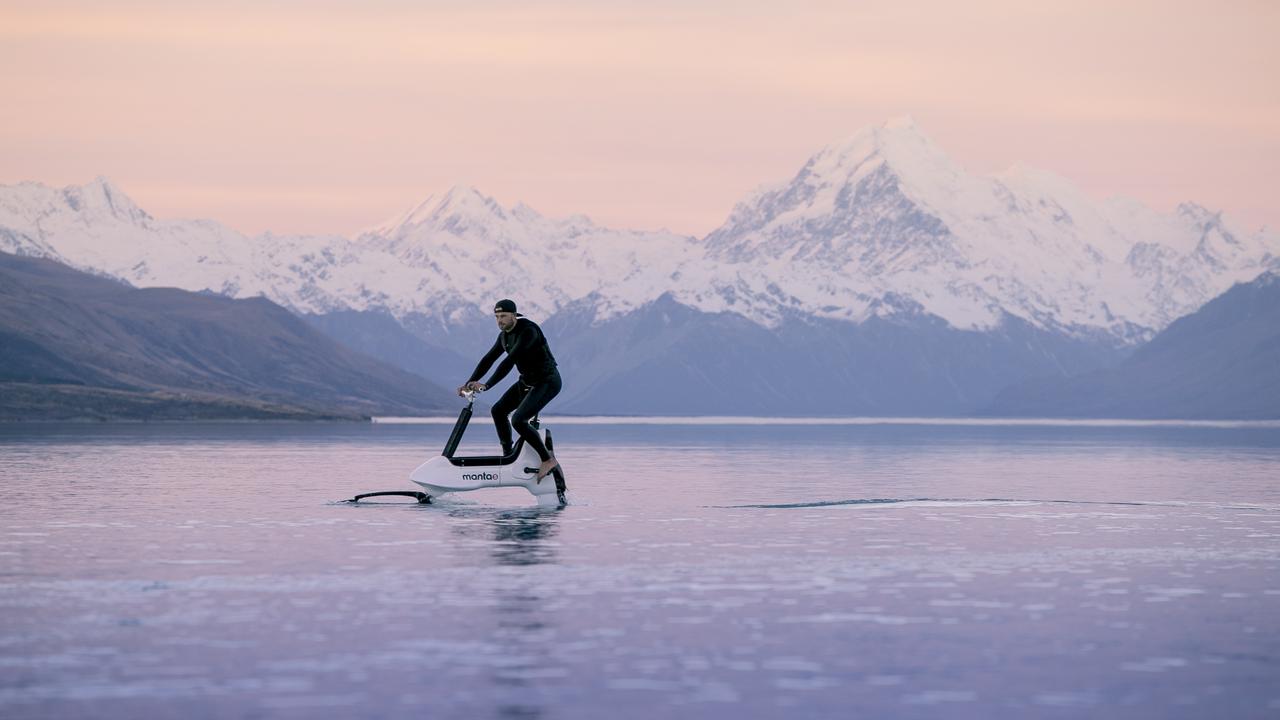 So you'll need to check with your state government's maritime department before buying. Manta5 says it will have sought accreditation in Australian states before sales begin here.
Sure there are some dangers attached to using the Hydrofoiler. But there are equally dangers when you ski, water ski, sail, rock climb, skydive, surf, bungy jump, hot air balloon or play Rugby League.
It's not for a lazy Sunday afternoon, but if you have a sense of adventure, and the blood runs swiftly through your body, if you believe YOLO (you only live once), this could be for you.