Getting fit after being in lockdown, stressed and mostly at home is more important than ever.
Snacking at home, stress-eating and less mobility has led to pandemic weight gain. A CSIRO survey estimates two in five people have gained weight, in the US one figure is 71 million.
But where there's yin there's yang. In 2021 we have the benefit of streamed at-home exercise systems developed during the pandemic. We have options such as virtual reality fitness solutions, video fitness courses and personal training sessions streamed live one-on-one.
There are countless YouTube videos for exercising different muscle groups and they are often free-of-charge. Search for "abs fitness video" and you'll find pages of choices.
This year, the big tech firms are going beyond helping you track your activities to offering their own workout solutions.
Late last year Apple released Fitness+ which offers video fitness lessons. Samsung also offers workouts. We'll look at Samsung's offering when we review the Samsung Galaxy S21, coming to market shortly.
Apple Fitness+ doesn't stream live sessions, so you don't chat live with trainers. But it does offer recorded high resolution videos in a gym setting made by more than 20 trainers. Sessions cover core (midsection muscles), strength, treadmill, cycling, rowing, dance, HIIT (high intensity interval training), Yoga and "mindful coolness" for winding down.
Trainers are sometimes flanked by two assistants who demonstrate variants of the exercises. If you are struggling, you can try an easier version, or challenge yourself to the harder one.
If you don't like a particular trainer, you can select an alternative trainer in the same workout category.
New videos are posted each week, so you won't run out of fresh material.
I started with the beginners' videos. My first, "Absolute Beginners' Strength with Kyle" was a 10-minute video that had me holding onto a chair for balance while performing bending, lifting and twisting – motions you perform every day.
I warmed up with knee-raises, rowing actions, hinging-forward and rotating, and followed with gentle squats, more rowing motions, lunging, push ups with knees on ground, and a two-handed action akin to throwing a ball over your shoulder.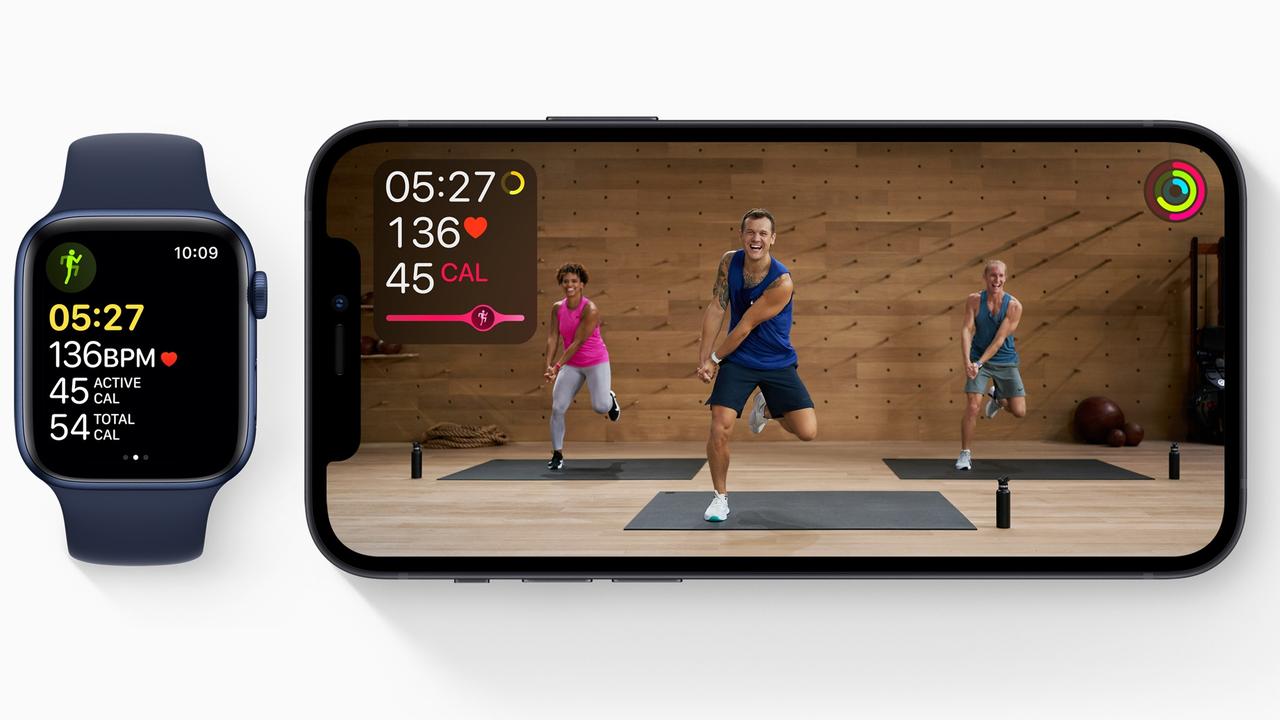 Next it was a beginner strength video with Betina, stretching and kicking to warm up, before dumbbells were introduced for squats, sideways lunges, overhead presses and other exercises.
My initial view is that these are thorough but complex workouts – even at beginner level, these multiple exercises will take some time to master.
I'd recommend watching a session video and learning the movements and then repeating the video to do the session yourself. You might need to repeat videos several times to master movements.
I also sampled a 30-minute cycling video with Kym offering: "pop rock, electro beat with two hyped-up rides". "Lets' hit the hills and release the endorphins," she says with unnerving enthusiasm. How could you not?
Selecting a workout with the right music is part of the Fitness+ culture. Some workouts let you change the music genre. You can action captions and subtitles if needed, and there is some limited caption support for non-English languages.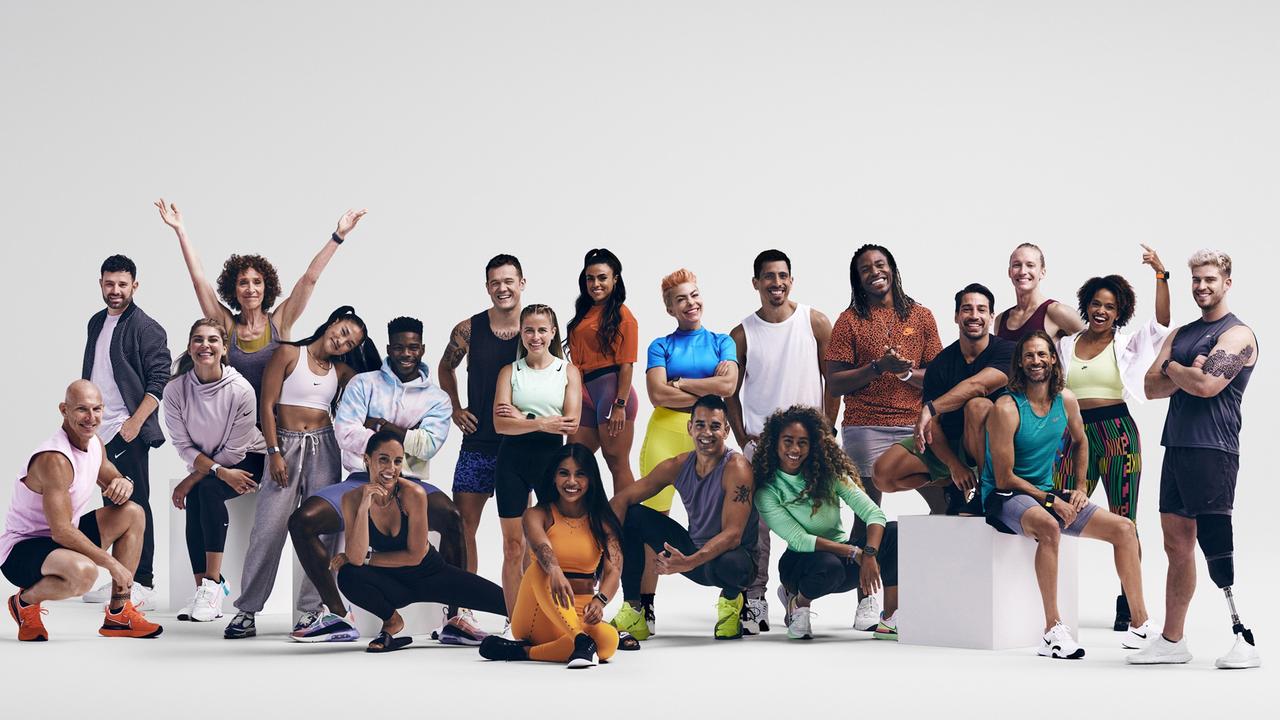 Whether Apple Fitness+ is for you is a personal decision. You'll need to stay on the ball mentally with all the different movements in a session, as well as physically, but at least you see how to perform each movement properly. That's a world away from the quick five-minute tour of equipment I remember at gyms I used in my youthful years.
Is it for me? I'd need a cultural change to enjoy this. I had already planned a simple plan of five or so exercises targeting shoulders and stomach that I do daily, for example seated dumbbell presses and crunches. I want to perform them quickly without complexity, but that's me.
Nevertheless Fitness+ offers a big variety of quality fitness videos classes with a sense of fun and motivation.
Apple drags you into its hardware vortex with Fitness+. You need an iPhone, iPad or Apple TV to use the service, along with an Apple Watch so that Fitness+ can gather and display your metrics.
These include heart rate, calories/kilojoules burned and the "burn bar" which show on the workout screen. The bar displays your performance against others who've done the workout previously.
You can view a fitness summary, and Fitness+ will recommend other workouts.
Strangely, you can't run Fitness+ from an Apple MacBook. Maybe it's due to the digital rights management of the video. Apple won't say why.
Fitness+ costs $14.99 per month or $119.99 per year, and it's part of the Apple One Premier subscription of six services costing $39.95 per month.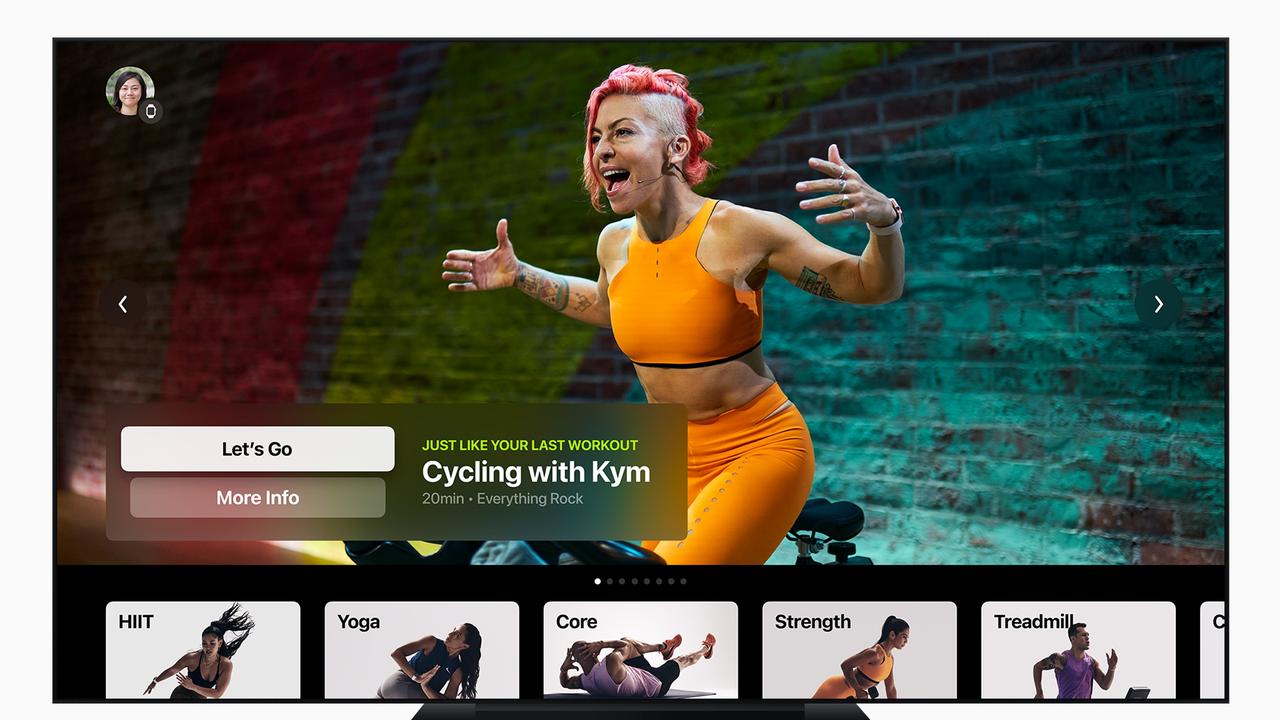 You can share one Fitness+ subscription with other family members, but they will also need Apple watches to participate.
Apple overnight announced Time to Walk", a feature where readers can listen to stories told by US celebrities such as Dolly Parton as they walk. It is accessed through the Workout app. Parton is well known as a country singer. There's also NBA player Draymond Green, musician Shawn Mendes and Emmy Award winner Uzo Aduba.
Whether the US centric choice of celebs in general interests Australians remains to be seen, but Apple promises new episodes each week until the end of April.
Apple is far from the only show in town. There are alternatives, such as the popular Nike+ Training Club with more than 185 exercise sessions. Exercise hosts include celebrities such as tennis's Serena Williams. Some content is free. Premium content is extra.
If you can't get to a gym, you can book one-on-one sessions with an online trainer with real time personal fitness sessions on Zoom, Skype or wherever. Some trainers worked in gyms but went online to earn a living during the pandemic.
There's also virtualised training. Regular readers would have seen my numerous reports on Zwift, where you position a stationary bike in front of a TV and virtually ride through whole environments.
The beauty of virtualised systems is that you feel you are exploring the world rather than performing repetitive exercise at home. Zwift took the psychological pain away from me in this way. I'm still on Zwift months later.
If you have a rowing machine, you can put on a VR headset and use the Holofit VR platform. Instead of rowing at home, you are rowing along beautiful streams, through the icy waters of Antarctica, underwater through an ancient submerged city, and in a tropical paradise.
There's also Icaros. In one example, you are strapped into a machine and you fly in the virtual world like a bird across the top of mountain ranges, while exercising your core.
These offer a window into the fitness tech of the future. The choice of what to do today is yours.
Published in The Australian.