Australia's Rode has enjoyed great success designing and making classy sound gear for the world. It sells to well over 100 countries with large markets in the US and China. Its gear is innovative, high quality, and affordable.
I've been testing the RodeCaster Pro II, a versatile yet not-too-expensive audio production console. It lets everyday consumers create professional sounding audio podcasts and live broadcasts.
With six input channels and another three virtual ones, you can host a podcast with four participants, have another person join by phone, take talkback calls via a second phone connected via USB-C, and mix in prerecorded interviews and ads. You can add theme music and sound effects, and chat to a guest before they go live via a second private 'back channel' while still podcasting on the main line.
This is the stuff of regular radio studios, packaged in a small frame and selling at a fraction of the cost. The RodeCaster Pro II costs just over $1000 locally – it's priced officially at $US699. Rode says it's also creating a package comprising the Pro II, 4 microphones, four microphone stands and four headphones for about $1500. That's a complete home audio studio for less than the price of a high end smartphone.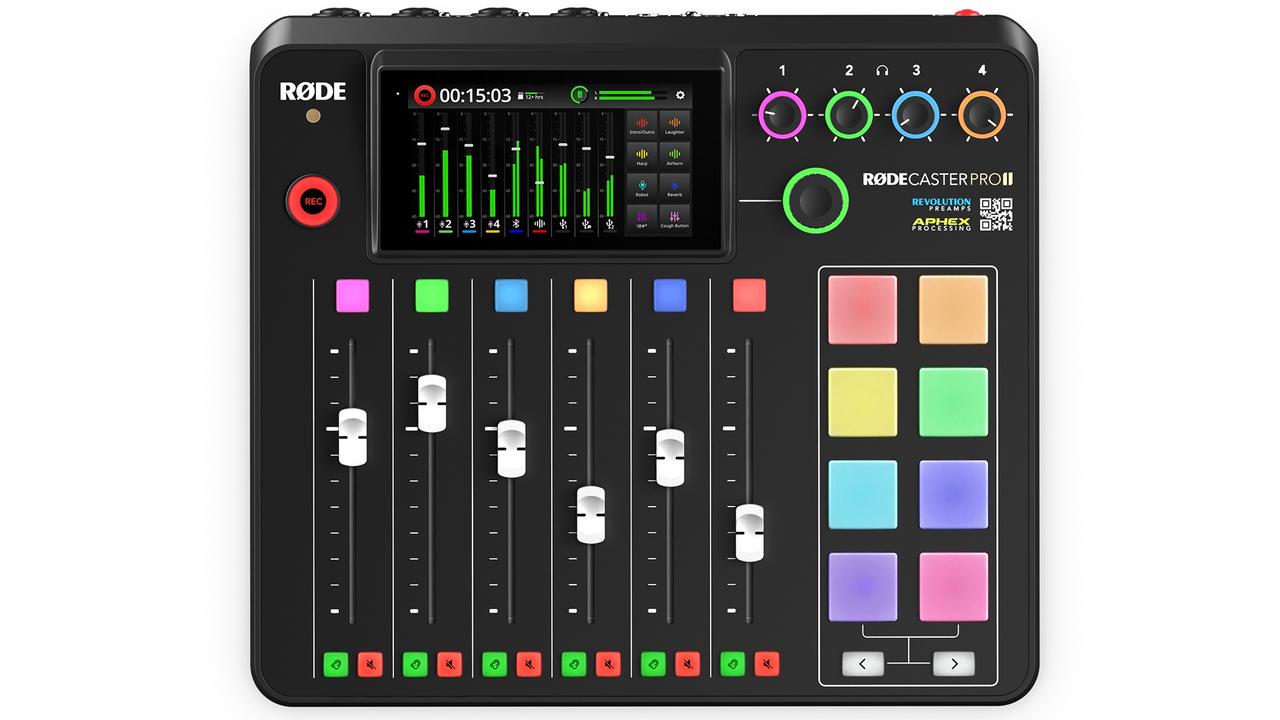 If you haven't thought about podcasting, maybe the Pro II will get you thinking. Podcasts are not just politics, business and crime. You could host a podcast about your local music or sports club, bridge or poker club, or panel discussions about health, history, local events and pets – anything. You can include remote contributions from subject experts and callers.
READ MORE: AI is better than humans at investing | Apple unveils massive software updates | Next up: the 3D holographic video | How Samsung's giant M8 monitor might take over the home | Apple eyes a huge slice of the BNPL market
Getting going with the Pro II wasn't too daunting for me, thanks to instructions that display on the device's colourful 5.5-inch touchscreen when you boot up. You can choose default settings, load previous show settings, or follow the set-up wizard, which I did.
The wizard told me to connect headsets at the rear, tweak their volumes, connect other sound sources such as electric instruments, and adjust the gain and select a preset for each source. I might be slavishly following instructions, but I felt like a seasoned sound engineer nonetheless.
There's plenty of choices for connecting inputs at the back. Four Neutrik combo jacks let you connect up to four professional XLR microphones and, with this RodeCaster version, music instruments such as an electric guitar, bass and drum machine can be connected using TRS plugs. Bands can create quality recordings this way.
The two USB-C ports let you link phones and computers, and data can flow in both directions. The same USB-C ports that receive your talkback calls via a phone can output your podcast to a connected drive for storage, or live stream it through a computer. Another channel is available for Bluetooth input, such as wireless phone input.
If you're not live-streaming or saving your podcast to a computer, you can save to a microSD card on device.
The Pro II has Ethernet and Wi-Fi connectivity, but that's for firmware updates.
There's other preparatory work, such as mapping the sound inputs to the channels. There are six channels with physical sliders and another three virtual channels controlled via the screen.
You need to link inputs to the physical and virtual channels. It didn't take me long to get the hang of it.
Rode is proud of the four preamps in the Pro II. You connect dynamic mics with a low input and route the sound through these preamps. Rode says they offer 76 decibels of gain and a low noise floor. The sound through the headphones was extremely clear with no noticeable noise.
The other big feature is the smart pads, the eight big buttons at right. You assign presets to them such as applause and laughing, your podcast theme jingle, advertisements, music you'll play mid podcast, and prerecorded interviews. You press a pad to activate them when needed. You can configure eight pages of eight presets, so 64 in all.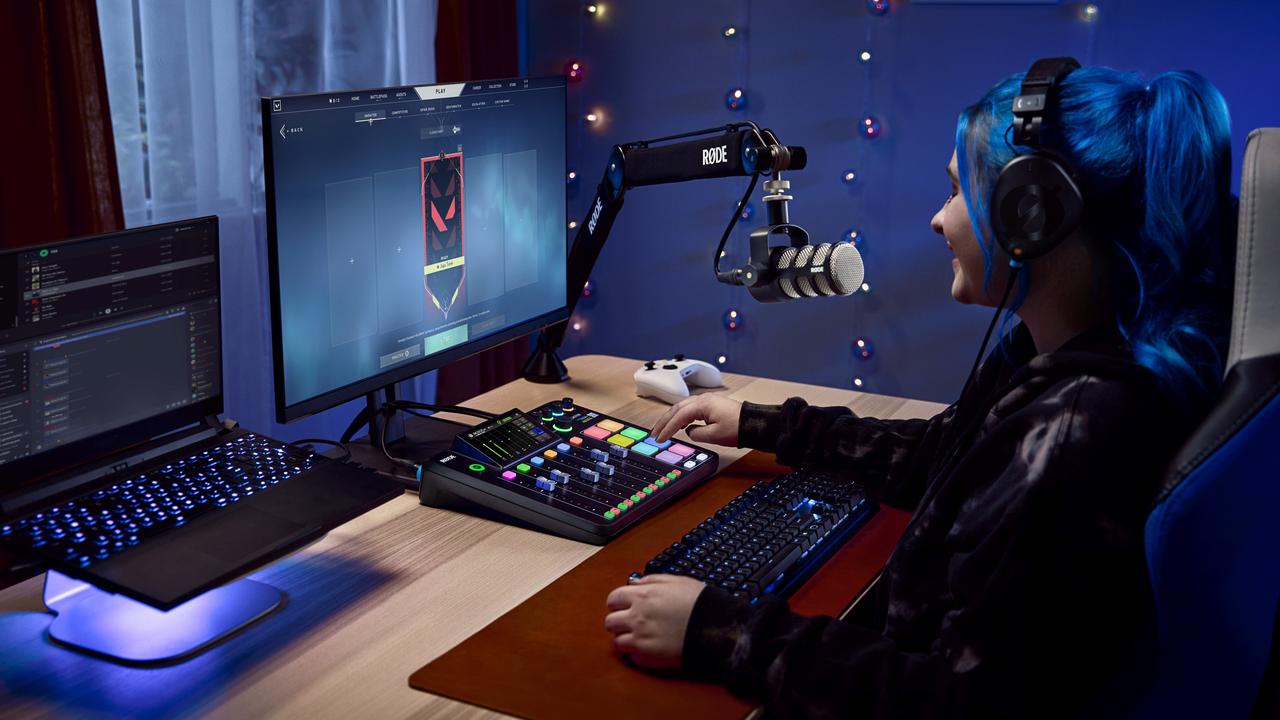 Loading media to presets is easy. You add them via the Rode Central App that you run on an Apple or Windows computer connected to the Pro II. The program comes with pre-customised sounds that you can also load up, and you can use the Pro II to record your own.
You can also assign sound effects to the pads such as reverb and delay. I had fun invoking the robot voice disguise and its pitch shifter, for menacing Dalek like sounds. I felt a science fiction podcast on its way.
You can also tweak the final sound using Aphex effects, based on audio signal processing from Aphex, a US technology manufacturer that Rode acquired in 2015. You can use filters from the Voxlab processing editor such as the high pass filter, noise gate and equaliser.
The Pro II connects to power using another USB-C inlet. I could boot it using a power bank I had supplying 60 watts and a USB cable, so you could podcast with this off the beaten track.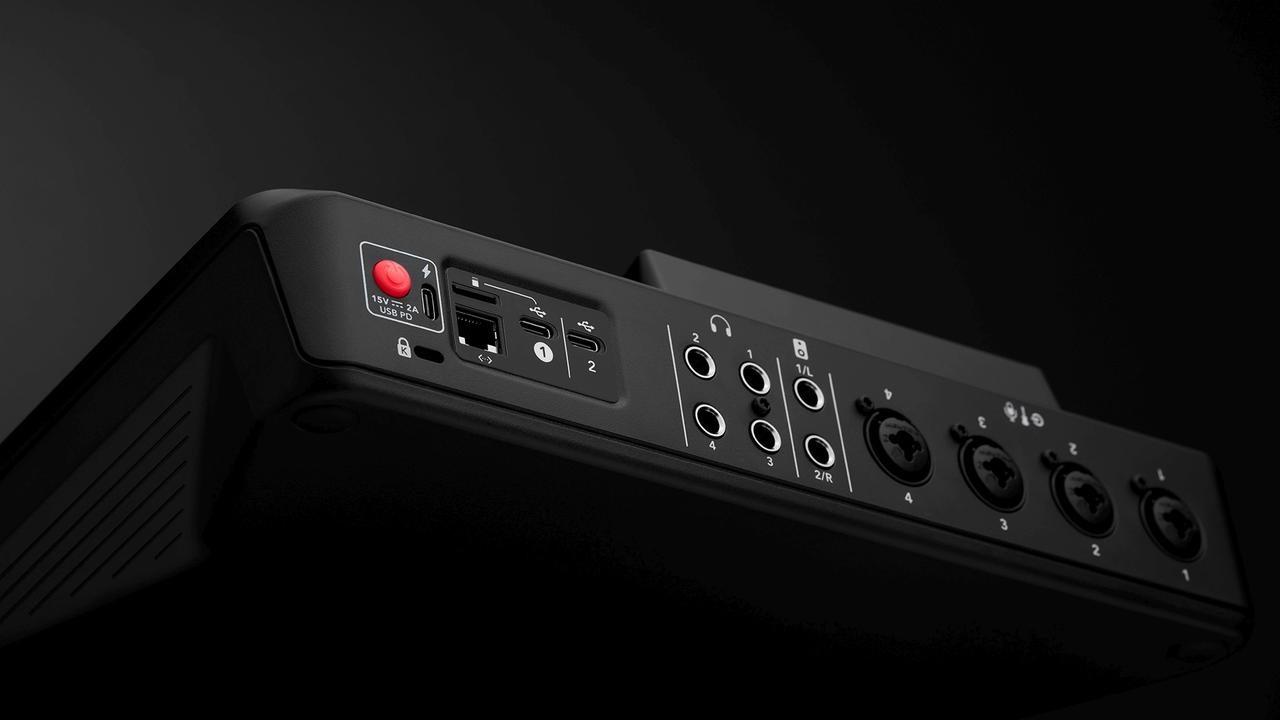 Apart from headsets and microphones, you'll also need a few cables. You can't use an ordinary Lightning to USB-C cable when linking an iPhone. You need a special Apple Lightning to USB-C cable with a signal chip costing $39 when linking. Android phones need a simpler USB-C to USB-C cable. Rode supplies a 2m USB-C to USB-C cable in the box.
I enjoyed the Pro II, linking inputs with channels, recording and trying presets and audio effects, and mixing audio with those sliders, but it will take time to fully master its capabilities.
Of course, the technology is only part of podcasting. You will need to plan your podcast, build great content, create theme music, incorporate sound effects and the like. There's much to organise.
The RodeCaster Pro II started shipping this week in Australia for just over $1000. Look out for the coming package deal with mics and headsets that gives you virtually everything to make a technical masterpiece.
Rode is a case-in-point where Australian companies don't have to make their tech overseas. We can manufacture here at profit, would you believe.
Published in The Australian newspaper.