Cutting edge Australian biotech firm Vaxxas is getting ready to open its Brisbane manufacturing plant at Hamilton next year. Tackling Covid is top of the list. Its game changing technology replaces using an injection with a patch that you apply to the skin.
A Covid version of the protein-based vaccine patch has proved effective against all major variants of Covid when given to mice, say researchers. Vaxxas is is developing patch dispensers for different diseases.
Vaxxas CEO David Hoey confirmed the finding during his interview with The Australian. "We have shown the ability of this vaccine delivered by patch to be capable of neutralising all of the known variants," he said.
His claim was backed by Dr David Muller, a senior researcher at the University of Queensland's School of Chemistry and Molecular Biosciences. He was part of a team performing testing of HexaPro vaccine patches with mice. "We've been able to generate a broad neutralising antibody response that is capable of basically neutralising every variant we have tested.
Chris Griffith, Senior Technology Reporter at The Australian, speaks on the new COVID-19 patch trial.
"We've tested it against ancestral Wuhan, the original virus, we've tested it against Alpha, Beta, Gamma, Delta, Kappa, Lambda and Omicron. And we see no significant loss in virus neutralising potential."
A paper has now been released on the finding. It says serum samples from twice-vaccinated mice taken 21 days after a second immunisation showed a potent neutralising antibody response against all variants.
Dr Muller said the ability to counter different Covid variants was due to the patch generating a broader antibody response rather than the spike protein, but he urged caution. "The point to remember is this is in mice, whereas we're humans, right?"
Vaxxas has exclusive rights to produce patches of the protein-based HexaPro, which was developed by the University of Texas and US National Institute of Health.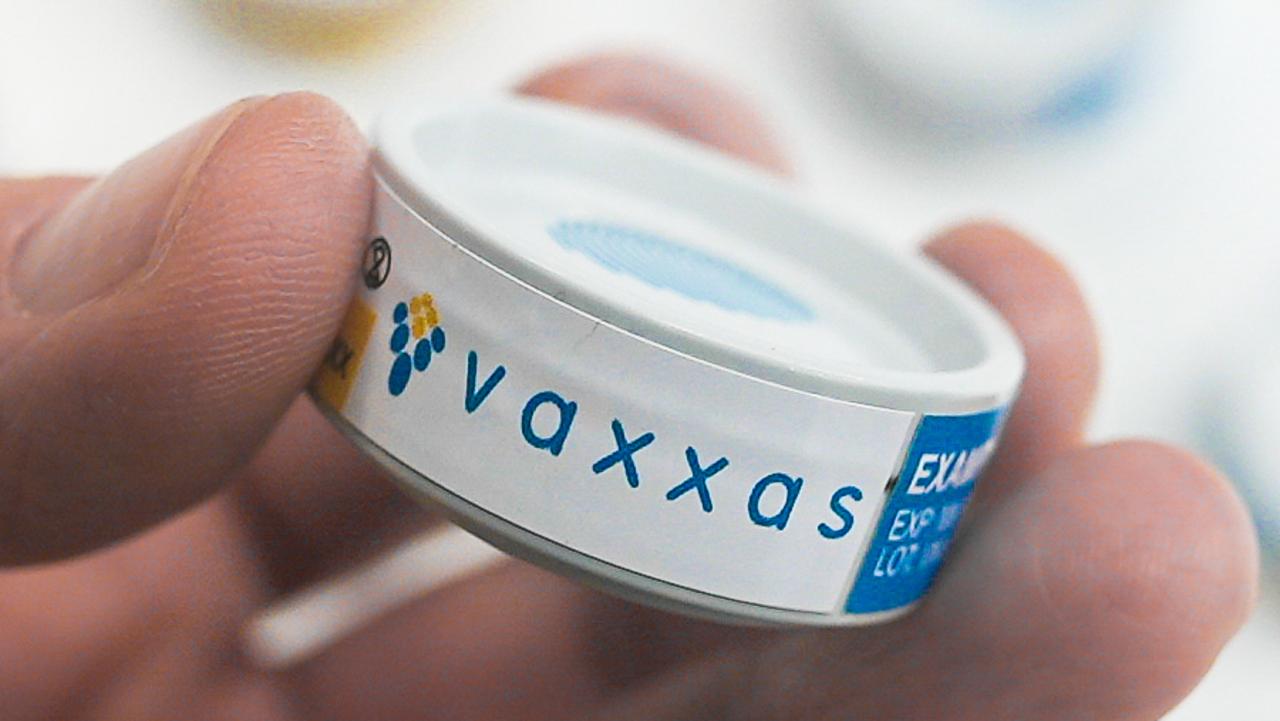 Novavax is the only common protein-based Covid vaccine used in Australia; the others are either viral vector vaccines (AstraZeneca) or Messenger RNA vaccines (Pfizer and Moderna).
Mr Hoey said a major benefit of patches was distribution and cost. Vaccination dispensers could be posted to you for self administration or collected at your pharmacy.
He said Vaxxas planned to eventually produce up to 300 million patches per year at its Brisbane facility at Hamilton and at other locations.
"You can send the device through the mail for somebody to apply in their own home, which prevents them from having to go to a central location," he said.
"Whether a health worker applies a patch, or if somebody applies it to themselves, there is no difference in the way the dosing works."
He said a patch was cheaper to produce than a needle and syringe.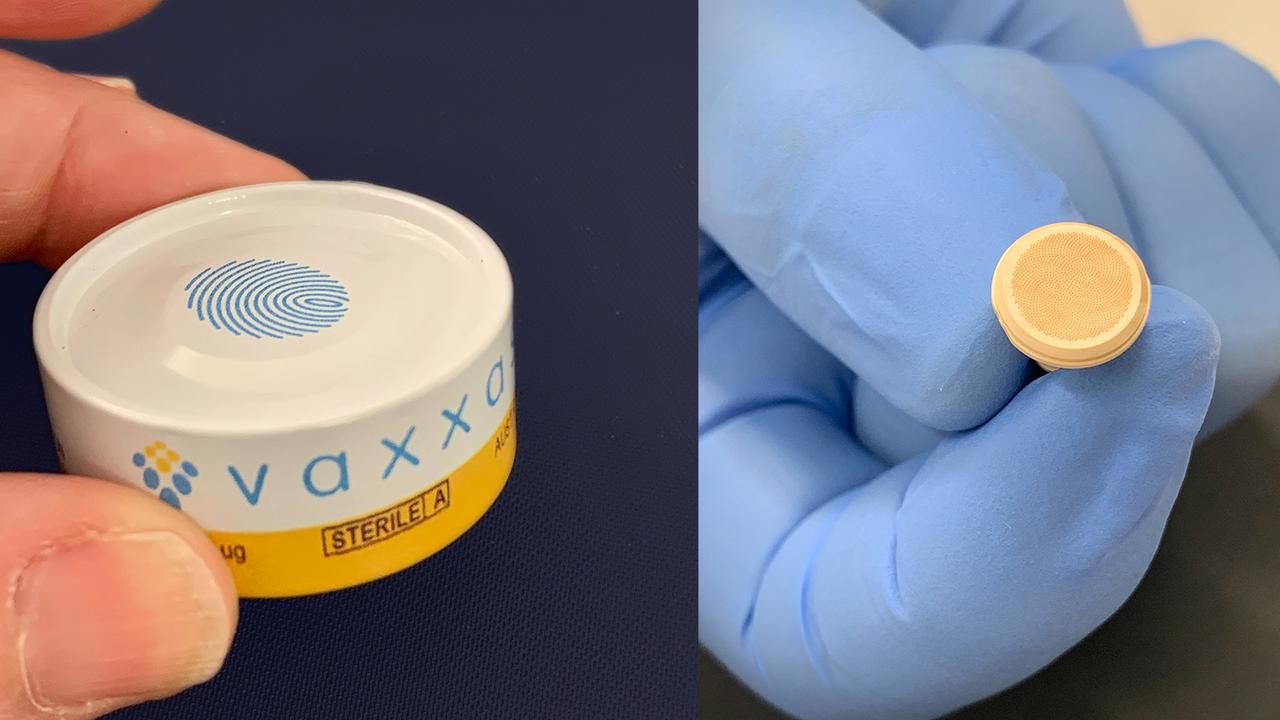 He showed off a revised version of the patch dispenser, a small aluminium cylinder about 3cm in diameter and 12mm thick. You remove the bottom protective foil, place it on your skin and press down the central section for a specified time. The aluminium shell can be recycled.
With Covid resurging and predictions of it being around for years, bulk supplies of patches could vaccinate developing nations with limited medical support on the ground. It's where new strains tend to arise. Even local officials could manage distribution.
"We're going to continue to be exposed to (Covid) variants that are developing in places that are not completely vaccinated. Having technology like this can improve vaccination rates that are going to be impossible to get with a needle and syringe."
In the journal Science in March researchers professors Daniel Altmann and Rosemary Boyton from the Imperial College, London, said the Covid timescale might range from years to decades or even centuries.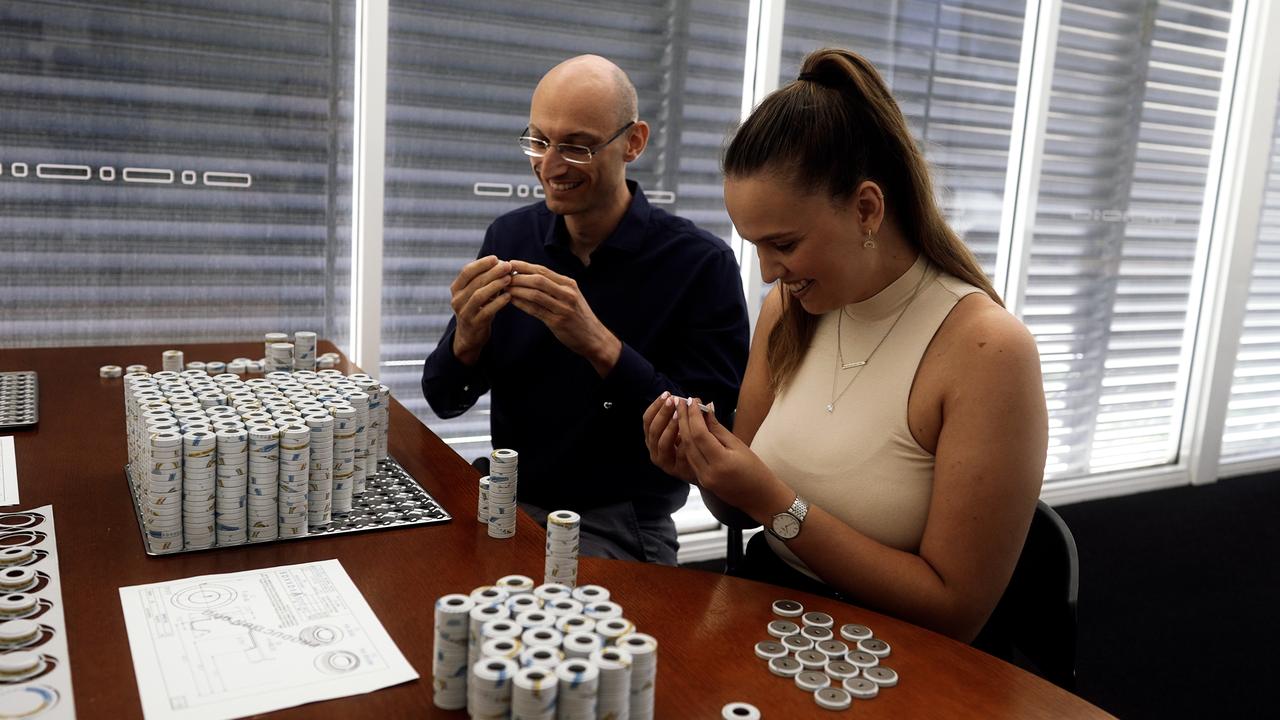 The UK may be on course for an annual turnover of 15 million infections and more than 50,000 excess deaths per annum. In the US they predicted 26 million annual infections and more than 400,000 excess deaths per year.
Vaxxas is hosting a clinical trial in Brisbane to test the dosage delivery accuracy of the patch applicator.
"We've just completed a series of studies looking at self-administration for different age groups, looking at the ability of somebody to look at a cartoon essentially, as an instruction for us, and based on that, to see whether they could apply the patch correctly."
Trials included people close to 90 years old, even with an arthritic condition. Mr Hoey said self-administration was simpler than performing your own Covid rapid antigen test. "You peel the foil, apply to the skin, push the back of it, and leave it on for 10 seconds."
Vaxxas is also hosting five clinical trials around specific vaccines, one being around HexaPro.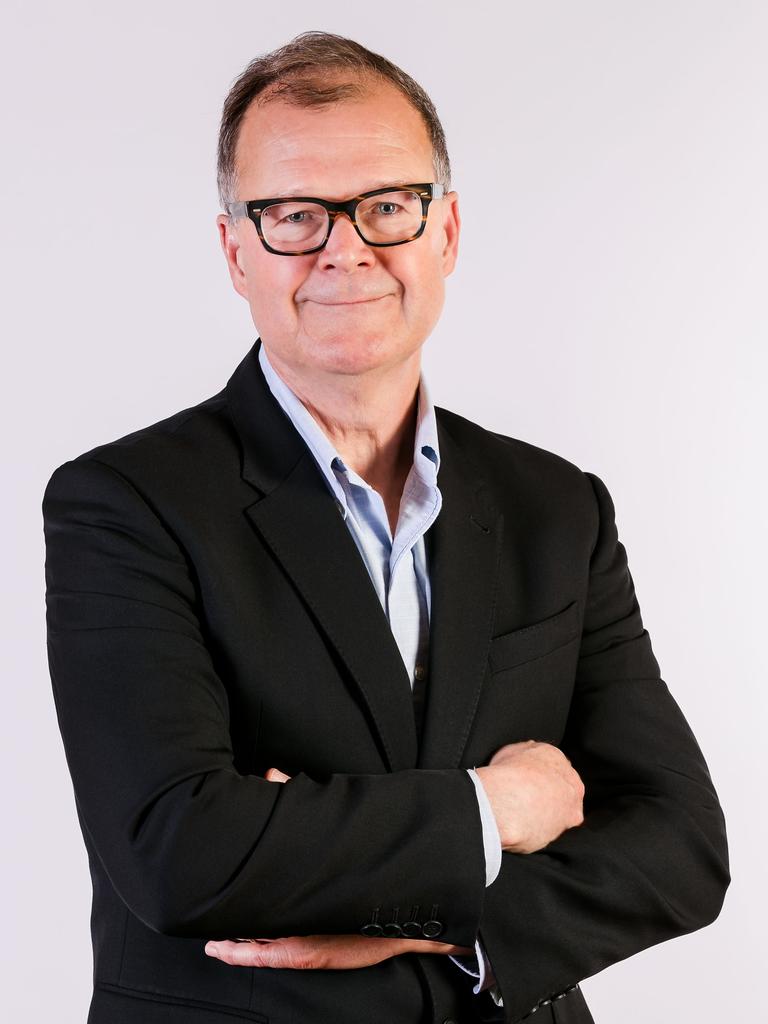 Other trials included a pandemic influenza vaccine in a partnership with the US government, a seasonal flu patch, and a program with pharmaceutical giant Merck.
Vaxxas had completed a phase one study of a measles and rubella vaccine patch working with the Bill and Melinda Gates Foundation. It would soon announce a collaboration around a typhoid vaccine patch.
Mr Hoey said a vaccine survived during distribution because it was entombed within crystals on the patch. Contact with the skin saw the crystals dissolve, releasing the vaccine as thousands of tiny droplets into tissue.
"It's in a liquid form originally, and we mix the vaccine with other ingredients like sugars which become crystals when they dry. They lock the vaccine antigen into its correct form and it doesn't change, so our vaccines can be stable even at high temperature.
"Our seasonal influenza vaccine that we had in a phase one study was stable at 40 degrees centigrade for 12 months with no degradation."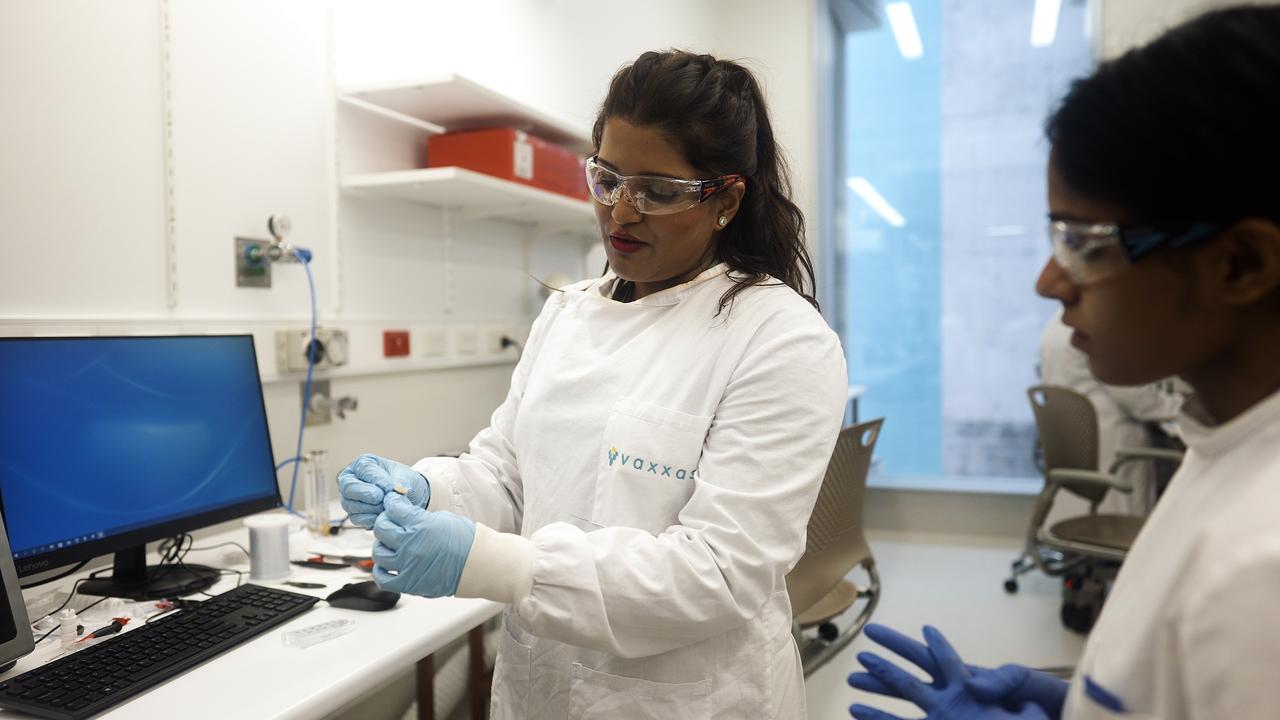 There's another benefit. The thousands of tiny micro injections into the skin significantly stimulated the body's immune response, as the HexaPro trial found.
Mr Hoey said Vaxxas's first Australian clinical study would probably start in the fourth quarter.
He said Vaxxas's Covid program could be approved in some markets within three years. His timetable was based on estimates of the further trials and approvals needed.
Vaxxas would upscale manufacturing to meet that timetable and move into its Hamilton facility in the first quarter of 2023.
"We have multiple clean rooms so we can conduct multiple development programs for different customers in our cells in parallel. It also will house our first commercial manufacturing line.
Published by The Australian newspaper.